Exterior wall cladding
An exterior wall cladding could be a fascinating place to advertise your products.Among all cladding material,compact laminate outstands for excellent performance in exterior or harsh environment.Now with digital print system,a compact laminate could be a good place to advertise or design.
Suggest:Digital print compact board
1) Great fire-retardancy prevents flame spreading effectively
2) Absorpt almost-to-zero moist in humid environment an keeps durability from- -60С to +80С
3) Chemicals-resistance prevents surface from corrosion ,being antimicrobial
4) High internal bonding strength makes panel not chip or delaminate under blows or vibrations, including the points of mechanical attachment.
5) Easy processing without special equipment and no additional process for edges
Common exterior cladding include:
ventilated curtain walls
cladding of balconies
fascia cladding
overcladding
rainscreen cladding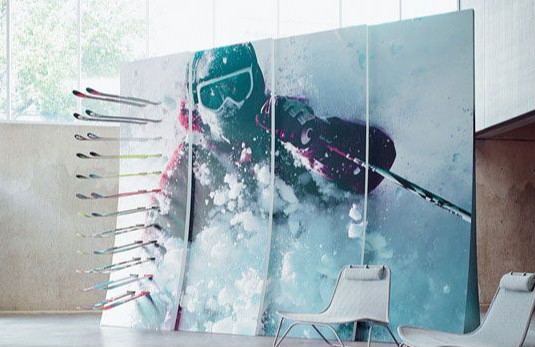 Slatwall(slotwall)
Slatwall(slotwall) is commonly used to display apparel,shoes and other products.It consists of panel made with cut grooves where inserts are fitted to hold products displayed.
Suggest : Printed HPL bonded board/Printed melamine board
· Anti-scratch expands its lifespan in high traffic area
· Formaldehyde emission met with E1 Standard and low VOC content
· Panels are easy to shape with customized grooves
Besides on wall , slatwall panels could also be made into a slatwall fixture(display fixture).
1)How to install HPL on wall cladding ?
Two methods are available in installation, which are visible and concealed fixing
a) visible method with clips or rivet
b) concealed method with special 3-component adhesive
2)How to install slatwall?
Slatwall could be installed with screw directly or with mounting track for solid construction.
2)How many types of inserts and trims can be applied ?
Inserts are placed into groove to hold products or whatever needed to display.Materials could be metal, plastic.Metals are recommended for its load capacity while plastic ones are mostly for light products and be decorative.
like other wall panels, we suggest slatwall be finished with aluminum,wood edge and steel.You could choose according to your budget and overall design style
4)How about edge treatment of slatwall?
·Both top and bottom are half-grooved for easy stacking
·One side is half-grooved
·Flat edge without grooving