Toilet cubicle/partition
With digital print system,we transform ever boring,dull toilet cucible door into a creative place with any images,photohgraphs or logos.From high-end restaurant to kindergarden,you always could find the suitable digital print board.
· In some high-end areas like star-hotel,luxurious restaurant or kinder-garden ,HPL bonded board is suggested as for elegance appearance and its solid structure.High screw holding leaves out worries of falling apart.
·In some environment with high-moisture and traffic volume,such as school washroom,gym changing room,the perfect choice would be digital print compact board for its outstanding waterproof and anti-scratch performance
·In most application , from office to school, you can choose digital printing melamine board for it is quite cost-effective and easy-to-install feature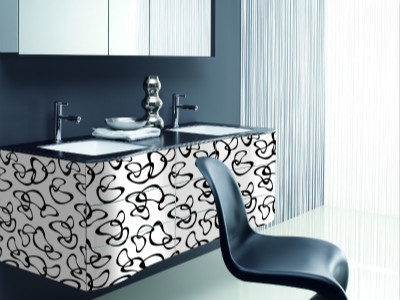 vanity units
Vanity units are countertops used hide pipe work in toilets from offices to outside areas .We customize vanity tops by digital print HPL. A matching splashback could be installed to protect wall if needed.Edges would be sealed to protect from water-corrosionand melamine board / compact grade panels(suggested in wet environment)are installed under HPL tops.
Standard melamine board (chipboard)thickness 15mm,18mm
Standard compact board 13mm
Height:1820mm-2100mm
Depth:1200mm-2000mm
Door height:600mm-900mm
1)What are the support materials used?
Hardware:leg,cranked hinge,indicator bolt,coat hook,bracket and so on.
Edge banding:pvc or aluminum
2)What does a toilet cubicle consist of ?
A complete toilet cubicle/partition consists of toilet door , toilet panels and hardware to connect or support the whole cubicle.Both toilet door and panels could be custom printed.
3) Can toilet wall panel be digital printed?
Sure,wall panel in toilet also be called duct paneling,which is usually installed behind toilet urinals.Compared with ceramic tile or other materials,it is more hygienic and easy to clean.